Awnings Swatches
Awnings Swatches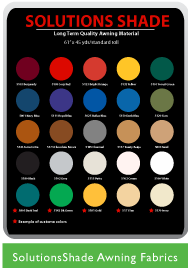 Solutions Printing Signs and awnings AWNING FABRICS
Fabric is an integral part of your awning and canopies. In essence your canopies or awnings will look good if your select right fabric. Because of weather condition in Vancouver it's very important to make sure to get right consultation with our team at SOLUTIONS PRINTING SIGNS AND AWNGS so you get right fabrics for your awnings, which are able to withstand the constant exposure to sun and changing weather conditions.
At Solutions Printing, Signs and Awnings we only use those fabrics that are recognized throughout the industry with 5-8 years warranty. After decided to purchase awnings and canopies your next decision will be matching color for your canopies. We have more then 500 color and patterns available for your awnings and canopies.
For a commercial look and more practical application vinyl offers a low maintenance solution. Different suppliers offer different solutions varying from heavy-duty vinyl patio covers to backlit vinyl for commercial.
For more information about fabrics you can call Solutions Printing Signs and Awnings.