Full Vehicle Wrap
Full Vehicle Wrap
Maximum impact with amazing results. Solutions Printing Signs and Awning full vehicle wrap it make it for viewers make it no matter what angle it is viewed from it take fully of  public eye  attention any where vehicle be drive. Vehicle wrap enhance your company image, product and services it called transfer your vehicle into a moving advertisement by your sign maker in Vancouver BC, Burnaby, Solutions Printing, Signs and Awnings.

You choose your colour such as  Red, blue, gold, green… it doesn't matter what color your vehicle is to start, Solutions Printing Signs and Awnings full colour printer cover it. Vehicle wrap or Car Wrap is come with combines the traditional cutting vinyl application with  impressive photographic capabilities of digital world. We print all the graphic then we separately apply vinyl on wrap this powerful combination get especial attention results every time. Solutions Printing Signs and Awnings to all the type of vehicle wrap such as 1/4 wrap, 1/2 wrap, 3/4 wrap, windows wrap, roof only, back only.  Vehicle wrap depend on customer budget we can work out to need customer exaction.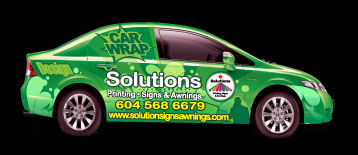 Try to reach us at below information for all the vehicle wrap and signage you need.